[Varian Fry Institute] [Chambon Foundation Home] [Chambon Institute Home]
---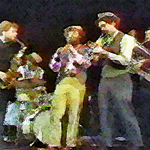 YIDDISH: THE MOTHER TONGUE
an Emmy Award-winning documentary by Pierre Sauvage
1979-2017, 58 min.
Examining the importance of Yiddish to American Jews today, the only documentary ever made about the centuries-old language of the Jews evokes its riches through interviews, music, humor, poetry and film clips. It features interviews with comedian David Steinberg, the late actor Herschel Bernardi, the late writer Leo Rosten, scholar Dr. Joshua Fishman, and theatrical producer Isaiah Sheffer, as well as rousing musical punctuation by the pioneer klezmer band The Klezmorim (above)--probably the first time klezmer music was ever heard on American television.
Shot in New York and Los Angeles for Los Angeles, Yiddish: the Mother Tongue was written, produced, co-directed and reported by Pierre Sauvage. Although both his parents had come from Yiddish-speaking homes, Sauvage himself was raised by them in New York without Yiddish in a French-speaking home; he did not even learn he was Jewish till he was 18. This documentary was his first step at exploring cultural roots which he'd never known.
Filmmaker Sauvage went on to make Weapons of the Spirit—being reissued in 2017 in a new remastered edition—the much acclaimed feature documentary about the area of Le Chambon. the Huguenot community in France that became a haven for 5,000 Jews during the Holocaust, including Sauvage and his parents.
Heading towards release at last is Pierre Sauvage's Not Idly By: Peter Bergson, America and the Holocaust(2017, 58 min.), which could be paired with and follow the 56-minute Yiddish: the Mame-Loshn to constitute a full program on the American Jewish experience— some highs and some lows—spanning 30 years of Jewish filmmaking.
Upcoming is Sauvage's feature documentary, And Crown Thy Good: Varian Fry in Marseille.
Reviews and comments on Yiddish: the Mother Tongue have included the following:
"Yiddish lore and derivations, traditions and opinions have been admirably asembled and showcased in hour docu produced, written by Pierre Sauvage who, as interviewer, keeping an admirably low profile, asks helpful questions."
Daily Variety, July 3, 1979
"Anyone interested in the Jewish culture shouldn't miss this comprehensive documentary on Yiddish, 'the mother tongue.' 'What other language has long endured without a homeland?' Sauvage asks, and then effectively proceeds to evoke the pleasures of Yiddish through interviews, poetry, illustrations, clips from Yiddish films and the lively music of the Klezmorim.
"Comedian David Steinberg, actor Herschel Bernardi, author Leo Rosten, editor of the Daily Forward Simon Weber, Dr. Joshua Fishman of New York's Yeshiva University and Yiddish scholar Dr. Saul Goodman are among those elucidating the joys of Yiddish from both personal and historical perspectives."
The Hollywood Reporter, July 5, 1979
"I love the program. We watched it at our home twice with delight. It is a gem."
Newton N. Minow, [then] Chairman of the Board, P. B. S.
After having hosted the Tonight show and guested on numerous prime time network TV shows, I still have a tendency to underestimate the power of the medium. But imagine my pleasure in striking such a responsive note from people in all walks of life—Jewish and non-Jewish—for your documentary. Months later, I still [heard] about it daily with people remarking, 'Why can't there be more of this!'"
David Steinberg
"I enjoyed your program on the Yiddish language more than I can tell you. It is colorful and dramatic. I am sure that most people know very little about Yiddish and this even includes many Jews. They think of it just as a jargon. This program should go far and wide. I am sure it will not only be a revelation, but a source of great pleasure to many, many people."
[The late] Rabbi Edgar F. Magnin, Wilshire Boulevard Temple
---
[Varian Fry Institute] [Chambon Foundation Home] [Chambon Institute]
[email us] [contact information] [table of contents] [make a contribution?] [search] [feedback] [guest book] [link to us?]
© Copyright 2011, Chambon Foundation. All rights reserved. Revised: January 28, 2012
---