committed to exploring the necessary lessons of hope
intertwined with the Holocaust's unavoidable lessons of despair
President Barack Obama speaks about Le Chambon
Yom Hashoah/Holocaust Remembrance Day
United States Capitol, April 23, 2009 (excerpt)
But while we are here today to bear witness to the human capacity to destroy, we are also here to pay tribute to the human impulse to save. In the moral accounting of the Holocaust, as we reckon with numbers like 6 million, as we recall the horror of numbers etched into arms, we also factor in numbers like these: 7,200 -- the number of Danish Jews ferried to safety, many of whom later returned home to find the neighbors who rescued them had also faithfully tended their homes and businesses and belongings while they were gone.
We remember the number five -- the five righteous men and women who join us today from Poland. We are awed by your acts of courage and conscience. And your presence today compels each of us to ask ourselves whether we would have done what you did. We can only hope that the answer is yes.
We also remember the number 5,000 -- the number of Jews rescued by the villagers of [the area of] Le Chambon, France -- one life saved for each of [its] 5,000 residents [of the area]. Not a single Jew who came there was turned away, or turned in. But it was not until decades later that the villagers spoke of what they had done -- and even then, only reluctantly. The author of a book on the rescue found that those he interviewed were baffled by his interest. "How could you call us 'good'?" they said. "We were doing what had to be done."
That is the question of the righteous -- those who would do extraordinary good at extraordinary risk not for affirmation or acclaim or to advance their own interests, but because it is what must be done. They remind us that no one is born a savior or a murderer -- these are choices we each have the power to make. They teach us that no one can make us into bystanders without our consent, and that we are never truly alone -- that if we have the courage to heed that "still, small voice" within us, we can form a minyan for righteousness that can span a village, even a nation.
Their legacy is our inheritance. And the question is, how do we honor and preserve it? How do we ensure that "never again" isn't an empty slogan, or merely an aspiration, but also a call to action?
I believe we start by doing what we are doing today -- by bearing witness, by fighting the silence that is evil's greatest co-conspirator.
video of President Obama's address on the Holocaust
full text of President Obama's address on the Holocaust
Le Chambon on the White House blog
Weapons of the Spirit(1989-2017)

Not Idly By: Peter Bergson,
America and the Holocaust (2017)

And Crown Thy Good: Varian Fry in Marseille (pending)

In 1940-44, in the area of Le Chambon-sur-Lignon, France, some 5,000 Jews were sheltered from the Nazis by 5,000 Christians, as recounted in Pierre Sauvage's 1989-2017 feature documentary Weapons of the Spirit.

With regard to the Holocaust, many Americans believe that we didn't know--and couldn't have done anything even if we had known.
Meet Peter Bergson, who led a controversial American effort to fight the Holocaust. This documentary short provides his unique and challenging testimony, assembled by Pierre Sauvage from mostly never-before seen footage.

In 1940-41, in Marseille, France, a New York intellectual ran the most successful private American rescue operation of World War II, as will be recounted in Pierre Sauvage's upcoming documentary And Crown Thy Good.
the memorable Chambon Foundation summer 2004 in Le Chambon!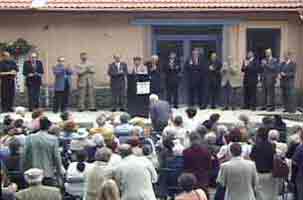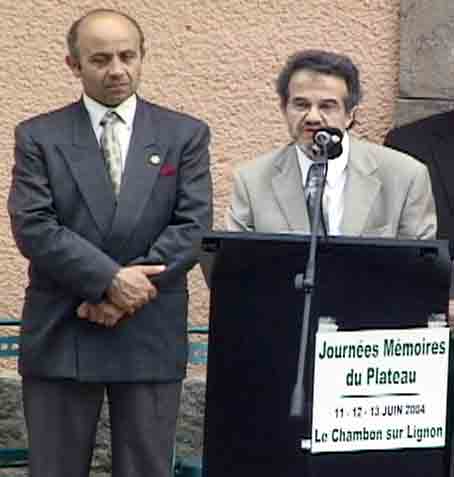 President Chirac of France visits Le Chambon-sur-Lignon (left), the earlier "Liberation Reunion" / Journées Mémoires du Plateau in the village
(center and right, with then Mayor Francis Valla, left, and Pierre Sauvage inaugurating the gathering they jointly sponsored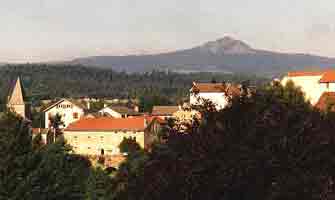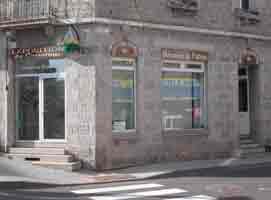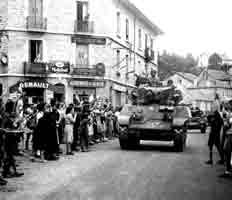 Left, Le Chambon-sur-Lignon. with farmhouse in foreground that in 2003-2008 could have become the Chambon Museum.
Certer and right, local headquarters till summer 2005 of Chambon Foundation in the heart of the village, where allied tanks rumbled through in September 1944.
---
[Varian Fry Institute] [Fondation Chambon] [What is the Chambon Foundation?] [Chambon Institute]
[email us] [contact information] [table of contents] [make a contribution?] [search] [feedback] [guest book, pending] [link to us?]
© Copyright 2009, Chambon Foundation. All rights reserved. Revised: December 29, 2010
---